. . . the Waterman's Autograph Album.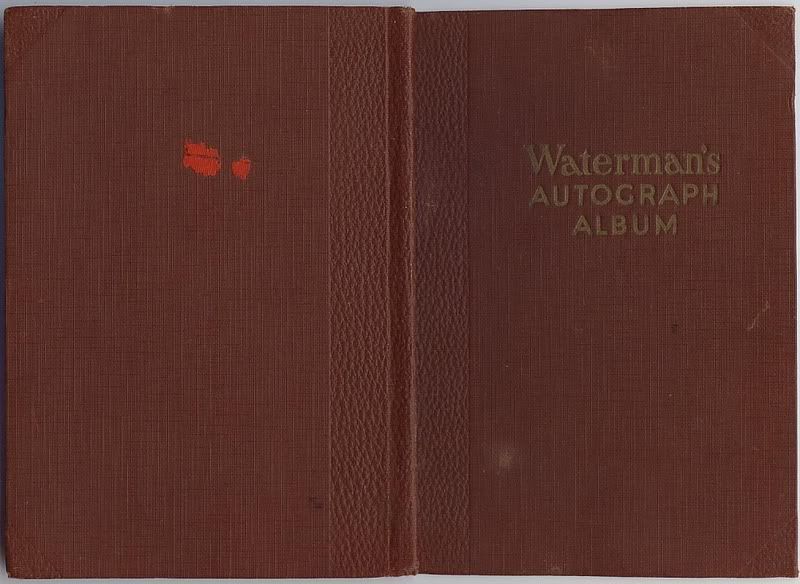 [Posted variously on L&P, Pentrace, and FPN on and around Jan 22, 2007, and Dec 7, 2012.]
I really miss Frank Dubiel. He was one of the few people at the pen shows that I could talk to about obscure fountain pen arcana, and he was as gentle as a pussy cat, once you got to know him. This post is in memory of all of
Frank
'

s posts on Penlovers and
alt.collecting.pens-pencils

and all the other pen message boards on which he participated.
Some of my favorite pen-show memories are from the two times I attended the Houston pen show. The first time I attended, in 1995, I was flying on a free Air-Miles ticket, and the airline forced me to stay one day longer, until Tuesday, so I asked Stan Pfeiffer whether I could come over to his place to see his collection on Monday. He responded with an unhesitating and enthusiastic "yes". I was stuck in the hotel the next day, and while I was waiting in the lobby, I bumped into Frank and Susan Wirth, and when they found out what I was doing, they asked whether they could come along. I phoned Stan, and he said "sure", so Frank, and Susan, and a few others piled into Susan's car, and we had a great time getting the tour of his house and of his great collection. He prepared a lunch of donuts and coffee for us, and we sat in his large kitchen and ate and talked before we headed out for a pen show dinner.
Now, unbeknown to me, this Houston after-pen-show-lunch-and-get-together at Stan's became an institution. Year after year, the lunch developed into a major pen meeting, by invitation only. Frank was always invited, and the lunch was even named in his honor by that time. Stan would prepare a major feast with a Texas barbeque in his back yard, and afterwards people would pass around some rare and unusual pens for discussion. The attendees would bring special items from their collections, items that wouldn't normally see the light of day often. Well, by 1999 I had enough Air Miles for another free ticket, so again I chose Houston. I heard about the lunch and finagled an invitation out of Stan. This time there were collectors and researchers like Frank Dubiel, Michael Fultz, David Nishimura, and about 8-10 others in attendance, and this time we ate Texas barbeque, either slow-roasted, or smoked beef that was tender and juicy, and other Southern and Mexican foods. And then we sat in a circle and passed around trays of pens that Fultz brought from his archive in his Parker Pen Co. safe, all for our delectation and discussion. What a great end to the weekend. I stayed late at the meeting, but someone else in attendance rushed me over to the airport in his car in time for my flight up to Canada, almost straight north of Houston. Now, that's Texas hospitality!
This was one of the first pen shows to be held in conjunction with the inkwell collector's society, and earlier that weekend I visited with an inkwell collecting couple, Scott & Dixie Rodkey, and viewed their collection and had another nice meal. The inkwell-show people had their own auction of inkwells and ink bottles, and there was a beautiful 16 oz. Parker "Duofold" master ink that both Stan and I wanted. Well, we were both stubborn, and the bidding went into the hundreds of dollars, but in the end Stan won out. When he walked past me after the auction, and during the rest of the show, we would both smile at one another, and he would call me "Ink Dog".
One of the items on my sales table was the
"Waterman's Autograph Album"

, which are highly prized only when they contain some famous autographs. Well, mine was almost empty and had no one famous, and I was getting sick and tired of people picking it up and throwing it down when they discovered that there weren't any famous people in it. One time when someone threw it down, I looked away in disgust, and who should I see a few booths down from mine but Frank Dubiel. And it was at that moment at the 1999 show that I decided to fill up my album with the autographs of famous pen collectors and researchers. I picked up that forlorn, castaway album and walked over to Frank, and had him sign it first of all, and I placed the album prominently on my table at that pen show and at every other show I attended since then until it was filled up, but that album was no longer for sale. When Stan signed the album for me, he inscribed it with the honorific "To the ink dog". You can see Stan's autograph on
this page

. Over on Pentrace on Jan 23, 2007, Antonios Zavaliangos called this little album a piece of "meta-ephemera", an excellent neologism to describe the album. It's "ephemera-about-ephemera". Thanks for the cool, new word, Antonios.
On Aug 25, 2012, Fern Padilla wrote, "Thanks for posting that autograph book. I see a lot of folks on those pages who . . . are the gold standard of pen collecting. I am going to miss Stan most for his wit. Ink dog is a cool nickname, and I think the after-pen-show party at Stan's place was about the coolest thing ever. I cannot thank you enough for posting this thread and reminding me. You da man!". I blush.
"I really miss Frank, he was just hilarious. The time Suzy drove us to the dinner in her Fiero, the back brake was sticking. The rear passenger seat where Frank was sitting started getting appreciably hot, and Suzy just waved it off with, "Oh dearie, the brake is sticking, it's no big deal". Frank started saying over and over, "We're gonna die, Suzy, your car is gonna blow up! I don't want to die in a Fiero!". I laugh every time I remember it because they just bantered back and forth to the point where I was laughing hysterically. Total high point of that pen show for me. Hanging out with friends always is. I look forward to seeing you sometime."
I seem to recall Frank and Suzy also bickering back and forth about her driving when she drove us to Stan's place. They were hilarious, almost like Laurel and Hardy. I won't say which one was which because neither of them fitted the Stan Laurel profile.
I remember Fern and his father Fernando Padilla from the second Houston pen show I attended. His father signed the autograph album with this quote from Don Quijote, "Te dire Sancho, que un hombre no es mes que otro, si no hace mes que otro". The reason I didn't scan that page and place it here was that there was a note just beneath his that was a bit risqué. A Texan woman with long, wavy, golden hair borrowed my RHR Waterman's #56 to sign the book. She loved the flexy nib and the way it wrote, and she added the note, "Who do I have to kill or sleep with to get this pen? I passionately desire it". All of these people I met, all of these autographs I got, started with the one I got from Frank. Fernando also told me a funny story in Houston, I think, or maybe at the LA pen show earlier that year. He congratulated me on my recent contribution to The Pennant, Fall 1998, p.17,
item 228

in this list of PCA library items. It's an article about the correct French word for "fountain pen". He said he found it informative but also hilarious. When he first read it he was in the basement of his house, and he was laughing so loud that his wife, who was on the second floor, heard him and came down and asked him why he was laughing. When Frank saw how much fun I was having writing those articles for various pen collecting magazines, he started to write articles of his own as well. I wish he had lived longer and written up more of that obscure fountain pen knowledge that was in his head.
Roger Wooten replied on Dec 10, 2012, "Time waits for no man, and with many of our veteran collectors, there isn't time to wait to talk with them, I suppose. There is also the required reconciling between anecdotal-type stories that you get from the old timers and diligent research. Sometimes they are totally at odds, but often times there is great value in merging the two. I need to be less of a researcher and get to be a bit more of a talker. I wish I had known Frank better".
Around Feb 27, 2013, Ginger Welch, Stan Pfeiffer's partner in his last years, ran across this thread when it was on L&P, and she sent me
this photo

backchannel. Seeing as it's a picture of the "4th Annual Honorary Frank Dubiel Party", that would place it in 1998. I don't recognize everyone in this picture, but I'll try to list the ones I recognize. If you know any of the ones I have left out, please send me an email, and I'll add their names. L. to R., ?, ?, ?, ?, a kid?, Patrick Irby, Judy Barnett, ?, Cyndi Schlagel, Dan Reppert, Frank, ?, Rick Horne, Susan Wirth, Mike Cassidy, Stan & his wife Laura, and Cullen Rankin.
There were originally only 18 blank pages available in the album, and sadly the first two pages were already used up by the previous owner. But notice all those names on the other pages! Frank's name appears
first

in the list of pen collectors. Here are some more pages from the album. See whether you can recognize any of the names on this
page

, this
page

, and this
page

.
On Jan 13, 2007, Kate Gladstone wrote on Zoss, "Why do so many folks prefer to sign their names illegibly, anyway?". In all honesty, I also share Kate's "preference for legible, plain writing of names, and signatures, or anything else, rather than the lightning strikes" that some people pretentiously affect. And sad to say, I can no longer read some of the illegible, lightning-strike autographs in my little album.

George Kovalenko.

.