, the pen that moved the world.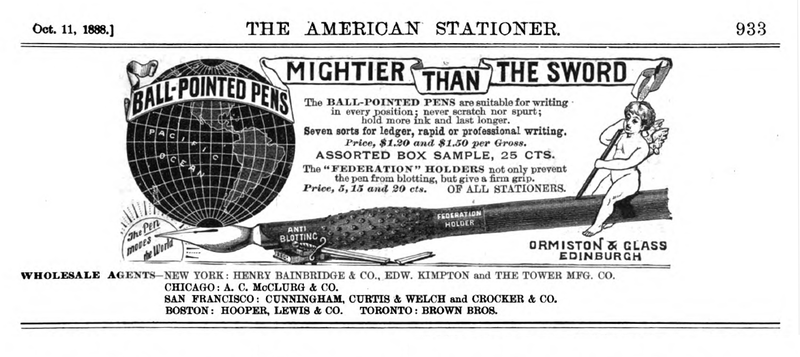 [Posted on L&P on May 27, and Aug 13, 2010.]
As well as the ball-pointed pens in this previous
post

, here's a nib that moved the world well before the ballpoint, US trademark no.
15,805

for Ormiston & Glass's trademark for "Steel Pens" on Aug 21, 1888 and used since Dec 1, 1887. It's for the slogans "Ball-Pointed Pens, Mightier Than The Sword" and "The Pen Moves The World", and an image of a penholder acting as a lever with a book as the fulcrum and a winged cupid as a representation of inspiration, or thought taking flight. He's holding a spear as a flagpole, which supports a banner with a "Mightier Than The Sword" inscription, and he's sitting on the handle of the penholder and acting as the weight that moves a globe, or the world, with the point of the nib. Under the globe is a rising sun with beaming rays upon which is inscribed the phrase "The Pen Moves The World", and lying in front of the penholder is a broken sword. The USPTO image isn't very good, but if you download the PDF, it's a little better. In the meantime, here's an American Stationer ad on
Oct 11, 1888, p.933

. Altogether it's a nice visual metaphor for a nib that moved the world before the ballpoint pen.


George Kovalenko.



.