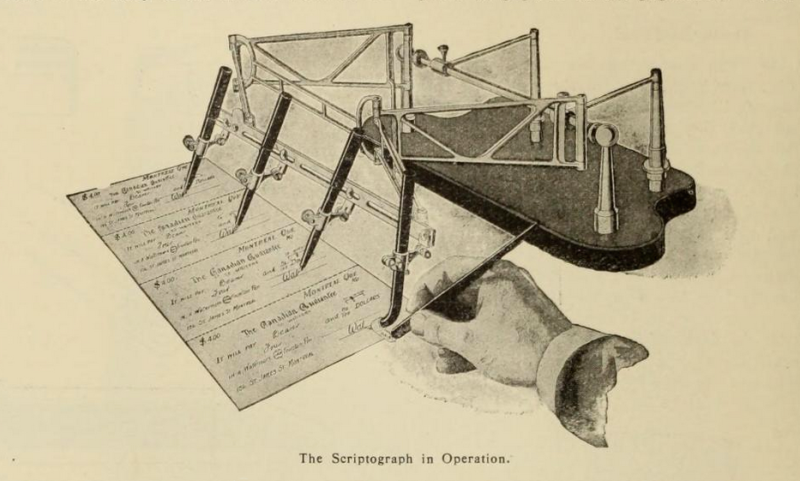 [Posted on L&P on May 17, 18, and 20, 2012.]
Here's another stationery item from an age before laptops and desktop computers. There's a picture in The American Stationer,
July 6, 1907, p.6

, of a 20-pen Signagraph, a pantographic apparatus for signing 20 cheques, or letters, or documents at a time. Larger, or smaller versions with more, or less pens were also available. A lot of pen people may not realize that the so-called "Signagraph" was at also known as the "Scriptographe", as shown by this article in Bookseller and Stationer,
May 1909, p.34

, or Can. Stat., as I like to call it. Also, the various patents were not issued or assigned to Waterman's, but rather, were licensed to Waterman's. "The vast increase in corporate issues caused by expanding business" made this writing machine a necessity at the time, and the "relief" it brought was welcomed and "endorsed by the leading captains of industry", in the words of the editors of Am. Stat. Wow, what a timesaver. All you had to do was fill up and maintain 20 fountain pens so that they wrote simultaneously and their tips didn't dry up and write sporadically and intermittently. But if you can find one today they are worth a lot of money. It's like the first Texas Instruments so-called desktop computer. It was actually a full desk in its own right with a large shroud over it to cover the almost-wall-sized screen. Only about 25 of them were ever produced, but if you can find one today they would be worth a mint. I'm not saying that a Signagraph is worth that much, but it's up in the thousands, if you can find one. I'd say at least $100 per pen, and probably more, and then something more for the mechanism. The ones I've seen have all had pens made especially for the purpose.
David Nishimura wrote, "I've never seen an actual surviving 20-pen Signagraph. Those were big units; the 5-pen Signagraph Junior was a portable unit that fit into a case the size of an oversize briefcase, and I've seen and owned a number of them. A single #4-size BHR slip-cap ED pen for a Signagraph Junior recently sold on eBay for $207. Note that one does not have to use the special pens–any pen with more or less the same thickness will do. I have seen people set up a Signagraph with thick-barrelled rollerballs for demonstration purposes. And since the Signagraph Junior remained in production into the later 1930s at least, one will find them with different pens–including Ink-Vues on later examples."
And I wrote, "Here's an article in Am. Stat.,
Nov 16, 1912, p.13

, about another one, this time a "Junior Signagraph", but there's no picture. It doesn't specifically say that it's a 5-pen version, but it does say it can be used to sign "four or five checks to a sheet". It also says that the "Waterman's Ideal fountain pens have made this instrument possible". There is, however, a stand-alone photo in Am. Stat.,
Dec 14, 1912, p.32

, of a 10-pen version being used by the "Paymaster Of A Large Corporation" to sign 6,500 checks."

George Kovalenko.



.