, or the "whale" inkstand.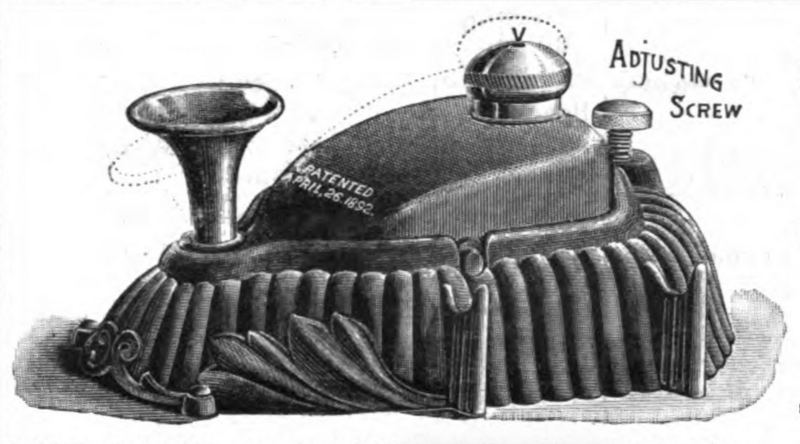 [Posted on L&P in Mar 2, and Mar 14, 2008.]
This goofy patented inkstand is often referred to by collectors as the whale inkstand because of its
reminiscent shape

, but the patent numbers imprinted on the inkwell have been confounding collectors for a long time because by themselves they do not seem to refer to any US patents You have to know how to preface some of the numbers with the correct letters in order to find them. I had already finished all the patent research on this inkstand while doing the initial research on my patent book in 2001, so I thought I'd collect all the relevant patent and trademark info, and put it in some sort of order, and write it up to clarify the confusions about this inkstand.
The inkwell portion is made of hard rubber and rests on a stand made of different materials. The body of the whale is the reservoir and the tail of the whale is the dipping cone, or funnel, or as the old terminology in the patent specifications refer to it, the "mouth-piece", thereby sort of standing the whale on its tail. On one side of the reservoir it is marked "Letters Patent No. 11233, 11234", and the imprint on the other side shows the name under which it was marketed, "The Century Inkstand", since it was manufactured by the Century Inkstand Co. of Canton, Ohio. The inkwell, or the whale's body, sometimes rests on a caste iron stand, and sometimes on an oak base with brass cradle with pivot points. When the whale-tail funnel is pushed down it fills with ink, thus allowing the pen to be dipped and filled, and when the funnel is released, the ink drains back into the body of the inkwell.
The numbers on its side do not refer to US utility patents because that would place them in the range of patent numbers from 1854. To find out whether those numbers were British patent numbers you would also require the year they were issued. And Canadian patent numbers that low would place the inkwell in 1880. I have seen a few different versions of this inkwell over the years. It is typically found with a wooden base and a brass stand with pivot points. I have seen a wooden-based one on Ebay three times in the last 5-6 years, but there is also a single one on a caste iron base in the second volume of Veldon Badders's book Collector's Guide To Inkwells: Identification & Values, on page 143. The latter one is from the Dixie Rodkey collection, and it is said to be from ca. 1825, which is plainly wrong because it is made of hard rubber.

As it turns out, the inkwell doesn't have just two patent numbers, but rather five, three utility patent numbers and two re-issue numbers, all granted to Edward S. Raff. The first number, US patent no. 430,194, was issued on June 17, 1890, and was re-issued on Apr 26, 1892 as no. RE11,234. The second number, US patent no. 445,200, was issued on Jan 27, 1891, and was re-issued on Apr 26, 1892 as no. RE11,233. So that's where those two numbers on the side of the well come from. They're re-issue numbers, and you'll need those two prefacing letters in order to find them in the USPTO, Google, and EPO patent databases. The third number, US patent no.
445,201

, was issued on Jan 27, 1891 and seems to be a variation, or an improvement on some aspect of patent no. 430,194.
There is one more reference to this company in the patent and trademark record. US trademark no. 51,014 was issued to the Century Inkstand Co. for "Inkstands". This trademark for a stylized version of the word "Century" was said to be in use since 1893, but was applied for on Dec 21, 1905, and was issued only as late as Apr 3, 1906. It seemed like there was a rush to claim trademark rights and to establish precedence around that time. In fact, it was almost a flurry of activity.
In American Stationer, July 26, 1894, p.171, there is an article about the Century inkstand that comes from a time when they were just starting to merchandize the inkstand. An article on June 18, 1896, p.1067 and an ad on
June 11, 1896, p.1001

are for a later version of the Century inkstand, this time with a "special" caste-iron base with a pen rest on the side, and again made single or double. The double one has two hard rubber ink horns,
one black and one red

, for two colors of ink. A double inkstand with black and red hard rubber funnels on a caste iron base was offered by Cowan's Historic Americana Auctions. This one was conjectured to be from around 1901 to 1925, but that's too late.
Image courtesy of
Cowan's Auctions

.
George Kovalenko.

.