, a Janesville, Wis. penmaker.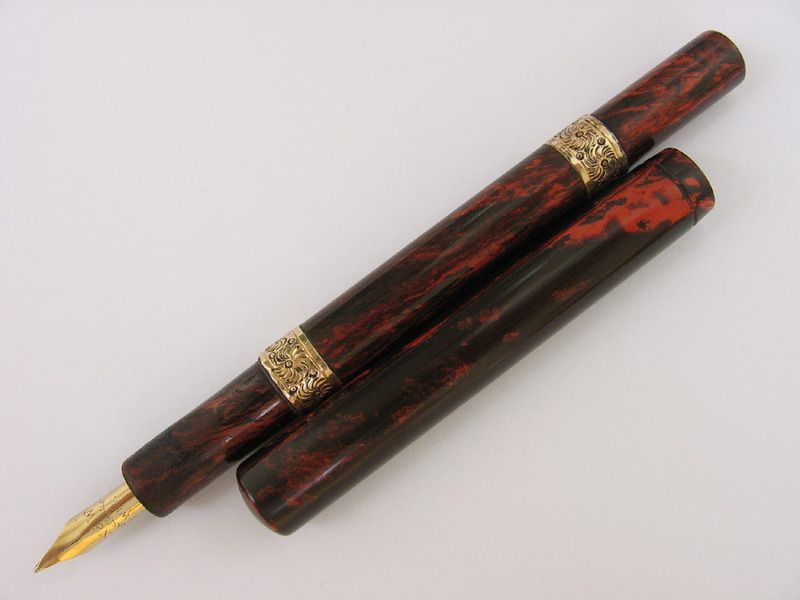 [Posted on L&P on July 10, 11, 2009.]
When
Marta Michnej

found the above early RMHR fountain pen with no markings on it except "N & W | Janesville | Wis." on the nib, she asked me whether I knew anything about this obscure Janesville, Wisconsin penmaker.

I congratulated Marta on finding this rare, early pen. She also sent a picture of the pen's feed, but there was some good news, and some bad news. First the good news. When I first saw the pictures of the pen, I thought to myself, "What a beautiful, sleek, long section", and I suspected that something was up when I saw how far the cap slipped over the section. But when I saw the picture of the feed, it looked like a feed for a jointless pen, so I looked through Volume 1 of my patent book for jointless pens, and I found the pen, Nelthorpe & Williamson's US patent no. 632,320. The good news was that her pen was in fact an early jointless pen. There is no section in a jointless pen, so it does not screw apart. The nib-and-feed plug comes out as a unit, and the pen is filled with an eyedropper.
The bad news was that the feed was broken. The feed at one time had a pair of tongs that looked like a pair of tweezers, and acted both as an ink drain like the Parker "Lucky Curve", and as a spring lock to hold the feed plug in place. But the bad news was that one of the tongs broke off at some time in the past. I suggested that perhaps the broken piece was still inside the barrel, stuck in the dried ink. It's a shame, but it's no big deal. When someone complains about some flaw in a rare pen, I tell them, "Try to find another one", let alone one in better condition.
Marta was one of the first people to purchase a copy of Volume 2 of my patent book, and she was definitely the very first person from continental Europe. I always tell everyone who buys a copy of the book that they get, not only my eternal, undying loyalty, but also a lifetime of customer support, and patent trouble-shooting, and Internet help. That loyalty means I will help them with backchannel information and research from both volumes of the patent book, including the forthcoming Volume 1. They will also be first in line to get a copy of another book on which I am working called Penmakers, an alphabetical listing of North American pen companies, penmakers, and inventors. So when Marta, as giddy as a little kid with a new toy, sent me some pictures of her new pen, I sent her the following, and told her to consider it her first installment of customer support and Internet help.
There were two entries for this company in my Penmakers book, for Nelthorpe & Williamson, and Williamson Pen Co., but I distilled them into one.
Edgar E. Nelthorpe and George H. Williamson were co-patentees for US patent no. 632,320 from 1899. Most people don't know of the relationship between Nelthorpe and Williamson because Nelthorpe left the company soon after it was started. He was a Parker Pen Co. employee by 1900. The company later became Williamson Pen Co., also known as WmSon, and they made gold nibs, fountain pens, and mother-of-pearl penholders. George H. Williamson, was president and manager, and Edgar E. Nelthorpe was an early co-patentee before he left. The company survived from the 1890s to about 1931. They also made use of Edward Whiton's patents, 1908-09. The pens were imported into Italy by Riccardo Amisani, Turin, in the 1910s. The American company was out of business by the 1930s, but production of Williamson pens continued in Settimo Torinese, Italy until the 1950s.



John Danza wrote, "Thanks very much for all this great information! I will absolutely be one of the first ones in line for your Penmakers book". John also questioned me about whether the Nelthorpe & Williamson patent was in conflict with Parker's earlier jointless pen, US patent no. 622,256, and their second jointless pen, US patent no. 635,700. Patents are not issued for the general concept of a type of filling method, but rather for the specific mechanism, and there is just enough variation between the Parker and the Nelthorpe & Williamson jointless pens that pre-
existing art wasn't an issue. They are unique enough for both to be allowed, and since the tweezer mechanism is under constant tension, it's no wonder that so many of them are now broken.

George Kovalenko.



.